Entertainment of Monday, 24 January 2022
Source: www.ghanaweb.com
2022-01-24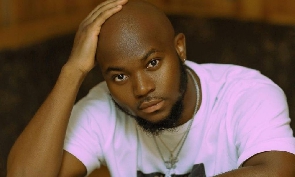 King Promise's management has been involved in a back and forth with 3 Music boss, Sadiq
King Promise opens up on feud with 3Music boss
3 Music boss, Sadiq blacklists King Promise
King Promise, management accused of disrespecting 3 Music boss
King promise has responded to claims that he and his management have disrespected the Chief Executive Officer (CEO) of 3 Media Network, Baba Sadiq Abdulai Abu.
Earlier, Sadiq bemoaned what he described as disrespect from King Promise's camp while disclosing that the 'Slow down' crooner has been blacklisted on all his media channels.
This was after he (Sadiq) emphasized how King Promise's manager, KillBeatz, made things unnecessarily complicated for his outfit to book the artiste for a show in December (Wildaland).
But touching on the issue for the first time, King Promise did not only deny such claims but also said he has done nothing to necessitate such a harsh decision from Sadiq.
'Innocent' Promise said he is not hurt by Baba Sadiq's actions.
"I'm not hurt by what he did. When you have done something, then it gets to you, but I haven't done anything. I was looking forward to performing at Wildaland. It looked beautiful, but we didn't come to an agreement. Sadiq is a very integral part of the industry. I've known him even before I blew up. I have not spoken to him in a long time. The last time he came around, I didn't know he had a problem with me," King Promise stated in an interview with TV3's Berla Mundi.
King Promise further noted that the music industry is already facing challenges that need solutions, therefore, it isn't prudent to promote division.
"I'm not about tearing down. We are already behind when it comes to a whole lot of stuff. So we can't be promoting division. For me, I will never speak on anything. Some people know I won't speak on anything. So they go ahead and say whatever they want to say," King Promise added.