Boxing News of Thursday, 6 January 2022
Source: www.ghanaweb.com
2022-01-06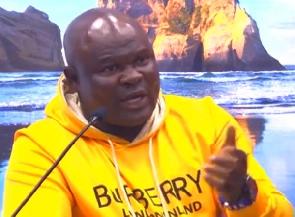 Brimah Kamoko popularly known as Bukom Banku
Bukom Banku eyes opportunity to fight Wilder and Fury
Bukom Banku to defend his WBU International title in USA
Bukom Banku set to return to the ring in 2022
Ghana's heavyweight boxer, Brimah Kamoko popularly known as Bukom Banku, has touted himself as a better boxer than Deontay Wilder and Tyson Fury.
According to Bukom Banku, given the opportunity he will beat Deontay Wilder and Tyson Fury in the ring.
Bukom Banku believes with his experience he will be able to beat the two big weights in the heavyweight division.
"You know me, you know I am a good boxer. You know I have the boxing talent so when I say I'll beat someone don't doubt me, pray for me instead. The Black man [Wilder] or Red man [Fury] they cannot fit [beat] me, the two of them cannot. I swear, I swear, I swear with God [that] those two boxers cannot," Banku told Joy Sports in an interview.
The self-acclaimed African Mayweather disclosed that he has been inactive due to some health reasons but will return to the ring soon.
"With how far I've gotten in boxing? I have been inactive because I have had trouble with my eyes but I am the world champion in Ghana. What are you telling me?"
The 41-year-old boxer is expected to make a return to the ring in the first quarter of this year in a bout slated in abroad.