Controversy rocks Joyce Blessing's marriage
Joyce Blessing unfazed despite purported DNA test results
Broadcaster claims Joyce Blessing was unaware of DNA test
In the last couple of days, gospel musician Joyce Blessing has become a topic for discussion on both traditional and social media following reports that DNA test results had shown that one of her three children is not her husband's.
The report came after what started as a beautiful union between Joyce Blessing and David Adu-Gyamfi (Dave Joy) suffered a setback in May 2020 over infidelity claims.
After news of their separation went rife, there were rumours Joyce Blessing had stormed the house of the husband's sister to pick her children amidst tight security. As events unfolded, there were accusations and counter-accusations including claims that Jullie Jay-Kanz who at the time was the publicist of the musician was part of the reasons for the breakup, a claim the blogger vehemently denied.
After nineteen months, the dust is yet to settle with the emergence of purported DNA test results.
How the rumour gained prominence
The issue about Dave Joy opting for DNA tests was tabled for discussion on Peace FM's Entertainment Review show. Kwasi Aboagye, the host of the show, in his bid to tackle what he termed misinformation, stated without equivocation that contrary to claims that two of the three children of Joyce Blessing are not Dave Joy's, it is rather one of the children.
"Indeed, a DNA test was conducted and it proved that it's just one child that doesn't belong to Joyce Blessing's ex-husband out of the three children. You haven't seen any DNA test yet you keep gossiping and spewing lies. Some of you are reporting that Joyce Blessing's ex-husband has discovered that two of their children are not his.
"You're lying. That's not true. Stop the lies, it's not a good thing. If you want to know the truth about the issue, you need to ask the people involved. You need to embark on thorough research. I know what I'm saying. These are sensitive matters so if you want to talk about it, you need to be sure," he stated during the Peace FM Entertainment Review show.
Although Kwasi Aboagye did not mention who his statement was directed to, there are claims his comment was a response to a remark by a female blogger, Afya Boadiwaa Fabregaz.
She had in a video clip claimed that "There's a gospel musician in Ghana whose ex-husband recently found out through a DNA test that two out of their three kids do not belong to him. There are some seventeen people who are aware of this development and I am part of them…"
TWI NEWS
DNA test done without Joyce Blessing's consent
Although circumstances that led to the DNA test was murky, a revelation by Kwasi Aboagye as regards how the test was done at the blind side of Joyce Blessing broadened the conversation.
The Peace FM presenter, during an interview with lawyer Tweneboah Kodua on whether consent from each party would have to be sought before a DNA test could be carried out, claimed that he was informed Joyce Blessing was unaware of Dave Joy's action.
"Our investigations show that the children were in the custody of the lady [Joyce Blessing]. The man [Dave Joy] went for them saying they were going shopping. That was when the sample of the children was taken for the test. So, per what we know, the lady never knew about the test. More or less, her consent was never sought", Kwasi Aboagye said as he laid the premise for the interview.


Kwasi Aboagye
Joyce Blessing reacts, slams critics
A few minutes afterwards, Joyce Blessing rebutted subtly. The musician cautioned detractors to not tamper with her reputation. Sounding unfazed, she remarked that her brand will continue to soar regardless. Her response wasn't without a dig.
She said: "I'm not a small brand so whenever you're talking about me, make sure you dress properly, put on a nice wig and apply nice make-up. I'm speaking to these small blogs who lack following and likes on social media. The more you talk about me, the more I am unbreakable. All these rumours won't break me. This message is also for people who are interested in constantly talking about me."
In a separate video she shared on her social media platform, Joyce Blessing, clad in red and shirt danced her heart out, indicating she was indeed unbreakable.
TWI NEWS
Ex-manager threatens legal action
Kwesi Ernes, the CEO of Media Excel threatened to sue websites purporting that he is the father of Joyce Blessing's children. Speaking on Entertainment Review, Kwesi Ernest who happens to be Joyce Blessing's former manager said he has chanced upon pictures of himself gridded together with the gospel singer's three kids and that is very discomforting.
"I have seen pictures of myself gridded together with Joyce Blessing's children and I find it worrying. People are alleging that that particular child who doesn't belong to Joyce Blessing's ex-husband is mine. What I'm supposed to do as a lawyer, I'll do", he said.
"I have forwarded those pictures to my lawyer. At this point, I have to do all I can to protect my name. Those publishing false stories about me should get ready for my lawyers. I'm not the one who conducted the DNA test so why should you tag me as the father of her kids?" Kwesi Ernest added.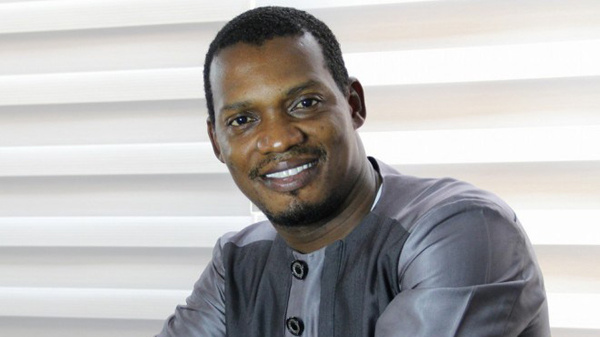 Kwesi Ernest
Finality?
As it stands, neither Joyce Blessing nor Dave Joy has confirmed nor denied the purported DNA test results. The matter is still in court.