General News of Tuesday, 25 February 2020
Source: 3news.com
2020-02-25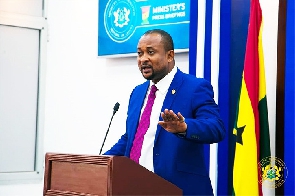 Deputy Information Minister, Pius Enam Hadzide
Deputy Information Minister, Pius Enam Hadzide has said whilst the government remains committed to creating safe and conducive environment for the practice of journalism in Ghana, journalists must watch against bias and sensational reportage.
He has therefore challenged journalists, as well as politicians, to rediscover and dedicate themselves as "responsible partners" in guarding Ghana's democracy as the country holds 7th general elections under the Fourth Republic in December.
Mr. Pius Hadzide who was speaking at the launch of Media General's Election Command Centre in Accra on Tuesday admonished politicians and news makers to also watch what they say and do, likewise journalists, he said, must also watch what and how they report.
"Sensational and opinion reportage, which imposes the bias and subjective views of reporters on factual accounts must make way for reliably factual reportage."
The Deputy Minister commended Media General, operators of TV3 Network Ltd, MG Radio (3FM, Onua FM, Connect FM and Akoma FM), MG Digital (3news.com) and Adesa Productions Ltd for their unparalleled coverage of elections with well trained staff.
"We are hopeful that the Command Centre will synergize stakeholders such as the Electoral Commission, the inter-party advisory committee, the Information Services Department, the NCCE and others; as the country prepares to compile a new voter's register for example, the Election Command Centre comes in handy as a platform for information dissemination."
Mr. Pius Hadzide touted government's repeal of the criminal libel law, passage of Whistleblower Act, and the Right to Information law under the NPP to portray a media-friendly government.
"The NPP government welcomes constructive criticism, but also encourages the media to choose optimism over extreme negativity and pessimism, thereby pay attention to the several benefits of the various interventions and programmes of government," he said, mentioning the Free SHS, planting for food and job, ending the erratic power supply (dumsor), and restoration of allowances to teachers and nurses.
The Election Command Centre, meant to provide impartial and extensive coverage of the 2020 elections, was launched by the Group Chief Executive Officer of Media General, Mrs. Beatrice Agyemang Abbey. It was attended by politicians, religious leaders, civil society groups and persons from different walks of life as well as management of Media General.
The Deputy Minister entreated other media houses, especially the state-owned Ghana Broadcasting Corporation and the Daily Graphic, to emulate Media General's bold step towards the December elections.
Trust the Media General team to bring you a trusted, reliable and credible reportage of the upcoming 2020 general elections across radio, TV and online.