General News of Monday, 24 February 2020
Source: Ekow Paintsil Djan, Contributor
2020-02-24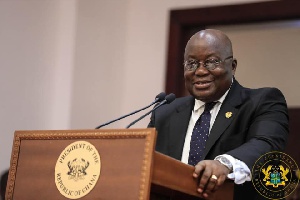 President Nana Addo Dankwa Akufo-Addo
A former Deputy General Secretary of the Teacher Trainee's Association of Ghana (TTAG) has taken a sharp but opposite position of President Akufo-Addo's claim that 67,000 teachers have been recruited since he came into office in 2017.
The President, in his 2020 State of the Nation Address, said on the floor of Ghana's Parliament that he has been able to employ 67,000 teachers into the Ghana Education Service, but, reacting to this claim, the former TTAG Leader said, " it is not true that President Akufo-Addo has recruited 67,000 teachers into GES. In fact, this is the first time Trained teachers from colleges of education have been denied direct employment."
Mr. Ekow Djan added, "16000 trained teachers were denied employment in 2018. They were due for employment in September 2018 but the government through the Ministry of Education introduced the unnecessary Licensure Examination and National Service just to frustrate the processes leading to their employment."
Mr. Ekow Djan argued that "the Ghana Education Service has only been able to recruit only 37, 375 teachers since 2017. The breakdown is as follows;
2017: Trained Teachers from CoE — 14,000.
2018: No trained teacher from CoE was employed. 16000 Trained Teachers were thus denied employment. Graduate/Double Track Teachers— 8875, Making a total of 37,375 teachers."
Mr. Djan further added that over 1000 Qualified Trained Teachers are staying at home unemployed. He said, "these are teachers who have passed their licensure examination and have undertaken their one-year mandatory national service; conditions set by the Ghana Education Service In 2018."
He therefore called on the Ministry of Education and the Ghana Education Service to as a matter of urgency ensure the postings of these Qualified Trained Teachers who have been denied employment.