Boxing News of Monday, 20 January 2020
Source: johnsoncitypress.com
2020-01-20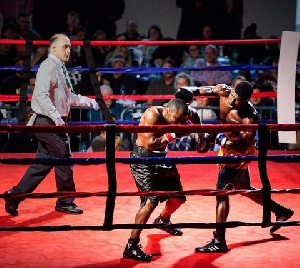 File photo
Johnson City boxer Roy King Jr. collapsed and was rushed to Vanderbilt University Medical Center after losing a unanimous decision to Sena Agbeko in their light heavyweight fight Thursday night at the Nashville Fairgrounds Arena.
King, 41, was listed in critical but stable condition Friday.
Both fighters landed several hard punches throughout the eight-round bout. Agbeko (23-1), a 27-year-old native of Ghana now living in Nashville, knocked down King (12-5-1) four times during the bout. King was knocked down once in the second round, once in the fifth round and twice in the final round, the last time before the final bell sounded.
King got up after the fight and made his way to the corner where he first stood, slumped over, getting cooled off by his trainer. He later sat on a stool and received medical attention before being taken out of the ring on a stretcher and rushed to the hospital.
King, a native of Brooklyn, New York, won the WBC Silver Super Middleweight title in October.