Sports News of Monday, 27 January 2020
Source: www.ghanaweb.com
2020-01-27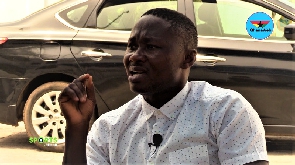 play videoFormer Kotoko striker Eric Bekoe
For every Hearts versus Kotoko there is always an interesting sub-plot. Either players losing their cool and clashing in the course of the match, supporters' misbehavior or some perceived act of black magic being exhibited on the pitch by either or both sides.
For players who have had the opportunity of playing in undoubtedly the biggest match of the domestic football calendar, days leading up to the game are challenging and full of pressure from both fans and clubs.
Over the years, weird, yet interesting revelations have been made about how both clubs prepare for this clash with neither side not wanting to be on losing side.
There is the story of Hearts players being at the beach at 1:00 am to undergo rituals for the team.
There is also the story of how some fans and officals of Kotoko had to perform some rituals at a cemetery in Kumasi just to have their side win the match.
These initiatives which are meant to enable the club 'win at all cost' usually drain players mentally and physically.
Former Kotoko striker Eric Bekoe has in interview on GhanaWeb's Sports Check program opened up on how he dealt with such situations during his days at the club.
Bekoe narrated how he received a call from an unknown person cautioning him against 'sleeping with a fair lady' at a time when he was dating a lady of similar description.
Bekoe told host Daniel Oduro that he did not entertain the person and went ahead to play the match.
According to Bekoe, the juju phenomenon is untrue and club administrators who invest their resources in it are 'wasting their time and money'.